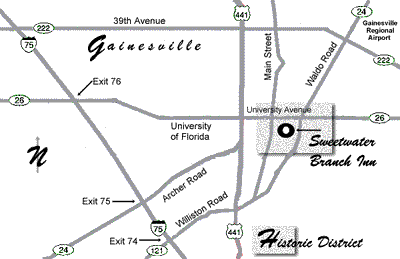 From points north (Lake City, Atlanta) or points south (including Tampa/St. Pete., Orlando, South Florida):


(Note: The Florida Turnpike North connects with I-75 in Wildwood).

Take I-75 to Exit 76 (Gainesville-Newberry exit). Head east on Newberry Road past the Oaks Mall towards the University of Florida. There is a fork in the road near 39th Street (movie theater and Bally Hoo Restaurant will be on the left). Stay to the left at this fork in the road (at this point Newberry Road becomes University Avenue). Continue straight on University Avenue through the major intersection at 34th Street until 18th Street. Florida Field, UF?ootball stadium will be on the right side of the street. Turn left on 18th Street. Hillel is the first building on the left.
From the Jacksonville area:
Take I-10 West to US 301 (Exit 50). Head south on 301 through Lawtey and Starke. Get on Route 24 in Waldo. Take 24 into Gainesville. Note: Lawtey, Starke, and Waldo are notorious speed traps ??ease drive carefully. Take a right at 39th Avenue (Gainesville Regional Airport will be on the left). Continue on 39th Avenue until NW 13th Street. Turn left onto NW 13th Street. Take 13th Street toward the University of Florida. Turn right on University Avenue. Go to 18th Street and turn right. Hillel is the first building on the left.
Parking:
Parking is quite limited in the areas closest to Hillel and the University of Florida. Please following all parking guidelines to avoid ticketing and/or towing. The best place to park is in the lot next to UF?ootball and basketball stadiums. Parking is restricted there during many hours, but is free and open to the public in the late afternoons and evenings. Please check the signs there for directions.

There is limited parking on the grass ledge behind Hillel on 1st Avenue and in marked street side spaces in the neighborhoods near Hillel. Parking is available in the St. Augustine Church lot diagonal to Hillel for a small fee.